Why You Need A Daily Exercise Routine
A daily exercise routine is essential for good health. It's easy to make excuses — today I feel sick, or I'm so busy — always promising to exercise tomorrow. But the truth is this: our bodies need a daily exercise routine. We were created such that we benefit from moving and we can waste away if we spend too much time sitting in front of a computer, sitting in a car, and then sitting on the couch. Here are 6 great benefits of exercising each day:
Improved Mood
Studies show that just 30 minutes of daily exercise can act like a mild antidepressant. Why is this? Because exercise stimulates the production of dopamine, a "feel-good" chemical that naturally lifts your mood.
Improved Circulation
Wondering why you are having circulation problems? Maybe because you're not moving enough. You have to get your blood pumping if you want to keep your cardiovascular system functioning at optimum levels.
Improved Heart and Lung Function
Exercise taxes your heart and lungs, which in turn forces them to rebuild muscle that is stronger and more efficient. If you don't exercise to the point where your heart and lungs are taxed, you won't get stronger. You may become weaker, making it harder to take up exercise later.
Improved Flexibility
Stiff muscles, weak core muscles, and poor range of motion are all alleviated with a daily exercise routine, especially if you choose exercise that entails stretching and core exercises. This will help you with your balance, which is increasingly important as you get older.
Improved Ability To Handle Stress
Exercise—even mild exercise—is an excellent way to manage stress. When you exercise, your body produces lower levels of cordisol, which is a chemical that is naturally produced when you are stressed out. Cordisol can wreak havoc on your nervous system if produced in high quantities or often enough. By managing your stress through an exercise program, you protect your body from this harmful chemical.
Improved BMI
Daily exercise will help you keep your BMI (body mass index) in check. Not only will you look better and feel better about yourself, but you'll also be healthier.
Daily Exercise Routines
It's easy to get motivated to go for a bike ride on a perfect, sunny day, but what about those days when you feel awful or when the weather is hideous? The following are great solutions for those "off" days when you just don't feel wholly motivated:
Invest in some home exercise equipment so you won't be limited by weather or travel
Inspirational exercise DVDs are great for motivation, and now we have the power of YouTube for giving us some bite-size workouts
Meet up with a friend to exercise so you can motivate each other
Remember to praise and mentally reward yourself every time you exercise when you haven't felt like it, it's a great feeling
Daily Exercise Summary
Whether you choose to walk a couple miles each day or to hop on your home gym equipment, the important thing is you decide to move your body each day. The choice to exercise daily will reap significant rewards and your body will thank you for it later.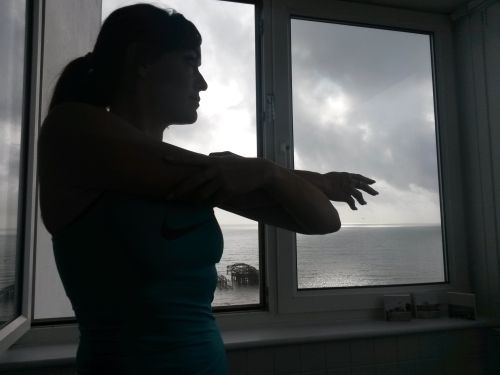 Please speak to a doctor or physiotherapist if you are at all worried about following these exercises. All material on this website is provided for your information only and may not be construed as medical advice or instruction. No action or inaction should be taken based solely on the contents of this information; instead, readers should consult appropriate health professionals on any matter relating to their health and well-being.