UK Cycling Events For September 2015
There are hundreds of UK cycling events that happen every year. September is a busy month for them, which can be put down to the post Tour de France buzz.
From Audax rides to Cyclo-Cross there are lots of different types of events to choose from. Here's an outline of the most common rides you will come across:
Cyclosportive: The most popular event found in the amateur cycling calendar. They are mass participation events that vary between short and long distance. Although not competitive, you do find out the time you register.
Cyclo-Cross: This is cross country racing on bikes with a bit of steeplechase thrown in. Each ride varies between 100% off-road to a mix of road racing and off road cycling.
Charity Event:The amount of charities that hold cycling events as a form of fundraising is vast. They all vary in distance and difficulty. Cyclists of all abilities take part making for a fantastic atmosphere. The British Heart Foundation London To Brighton is a classic.
Audax: Latin for 'bold' an audax ride is a long distance cycle within a pre-defined time limit. They aren't races but are still the most challenging event on this list. Distances covered can range from 50km all the way up to 1400km. Audax rides run most weekends. A great resource to keep up to date with the Audax UK calendar is via the Audax UK website.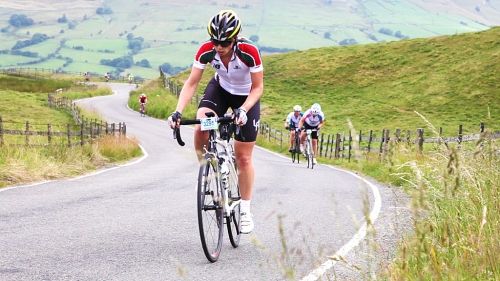 If you're thinking about taking the next step in your training we're here to help. We've listed some of the best upcoming UK cycling events for you to have a go at this September.
The Great Gorilla Ride
Event Type: Cyclo-Sportive
Date: Sunday 6th September
Location: Northamptonshire
Distance: 3 routes to choose between- 50, 75 and 110 miles
Why You Should Do It: The 3 routes offer anyone the chance to give it a go. It's tough but definitely not one to miss in the cycling calendar. The challenging climbs and descents make the free pint at the finish line all the more worthwhile.
Tour Of The Cornfields
Event Type: Cyclo-Cross
Date: Sunday 6th September
Location: Royston, Cambridgeshire
Distance: Choose between 100km or 50km
Why You Should Do It: This cyclo-cross is a 50% off road course. If you're after a more adventurous ride and you have the right kind of bike, this is the event for you. Narrow lanes and farm tracks take you through the course making a change from the average road race.
Essex 100
Event Type: Charity Ride
Date: 20th September 2015
Location: Colchester
Distance: 3 routes to choose between- 'Cool' 38 miles, 'Classic' 68 miles & 'Champion' 102 miles
Why You should Do It: This event raises funds for Action Medical Research For Children. It's for a great cause and the 102 mile course is a challenge for even the most seasoned riders. If that's not enough to encourage you to sign up, upon entrance you get put into a draw to win a brand new city bike.
The Wiggle Peak District Punisher
Event Type: Cyclo-Sportive
Date: 27th September 2015
Location: Bakewell, Derbyshire
Distance: 3 routes to choose between- 'Epic' 100 miles, 'Standard' 77 miles & 'Short' 40 miles
Why You Should Do It: For the view. You get to see the stunning scenery by following some of the lesser known routes and paths of the area. The 3 distances mean anyone can take part; from beginner to advanced. Prepare for the climb up to Monsal Head whichever route you decide on, it's a killer!
Which UK cycling events are you taking part in for the rest of 2015? If we've persuaded you to give one of these a go be sure to let us know how you get on in the comments below...
Photo Credit: farm4.staticflickr.com