ELLIPTICAL CROSS TRAINERS SIZE GUIDE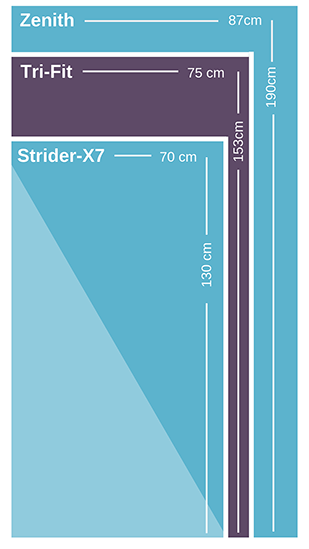 Cross Trainer Flywheel Size
The flywheel is the heaviest part of a cross trainer. It dictates the maximum resistance but equally importantly, helps create a smooth ride. It is one way to help identify the quality of a cross trainer for sale online. We would recommend 10kg as the minimum flywheel size to consider.
It is also important to take the total weight of the machine into consideration. To create a perfectly smooth and stable ride you need a decent flywheel and a solid frame. It can be hard to identify this when shopping online and looking at the weight of the overall machine and its flywheel is a good guide. If you are comparing two cross trainers and one is much lighter than another but apparently has a huge flywheel, we suggest you think twice. Compare JTX Cross Trainer flywheel sizes here.
Compare Cross Trainers
Elliptical Cross Trainer Dimensions
When buying a cross trainer, you'll want to make sure it will fit in your home. Note the size guide, which shows the footprints of the JTX cross trainers. We recommend that you allow an extra 10cm – 15cm on to the cross trainer width. This will ensure you have enough space to get onto the cross trainer comfortably and don't feel cramped during your workout.
Strider-X7 - 130cm (l) x 70cm (w)
Tri-Fit - 153 (l) x 75cm (w)
Zenith - 190cm (l) x 87cm (w)
If you have low ceilings, it's also important that you consider the height of the machine. Add your height to the max pedal height, which can be found in the specification, to make sure you will have enough headroom.
Elliptical Cross Trainer Stride Length
You'll also want to consider stride length when browsing cross trainers for sale online. Choose a cross trainer with too short a stride length and you may experience an unnatural, jarring, movement which will prevent you from working out at your maximum intensity.
Gym quality cross trainers generally have a stride length of 20 inches or more. Larger stride lengths allow a smoother, more fluid motion and create the potential for workouts of greater intensity. We recommend a minimum stride length of 16 inches.
Generally, the larger the cross trainer, the longer the stride length. If space is limited but you don't want to compromise on stride length, then a well designed, adjustable stride cross trainer is worth considering. Something like the JTX Tri-Fit, which has been carefully designed to achieve a 20" stride in a compact home use footprint, will suit your needs.
Cross Trainer Buying Guide