Home Gym Ideas
When thinking of home gym ideas get plenty of inspiration to make your workout space perfect for you. If you're not happy with it, you won't use it. Consider every aspect; from wall colour to where you should hang your speakers. Here are some ideas to get your creative juices flowing when planning for your home gym.
We are constantly on the look out for fresh home gym ideas. We'll pin our favourites below.
Home Gym Location
Location is key. Decide where to set up your home gym and the rest will follow. It can be anywhere from a corner of your lounge to your new conservatory. Once you find the perfect space for your workout lair you can choose what goes in it and how it looks.
If you set yourself up in an unused, windowless, cold garage you probably won't want to nip in after a long day at work.
The Walls
A motivational phrase or quote scrawled upon a wall is a solid choice. But if that makes you wince a little, a brightly painted wall or mural could be a nice idea. Certain colours change your level of alertness and influence your mood and energy levels. Think about what best suits you and the way you want to feel when you are working out.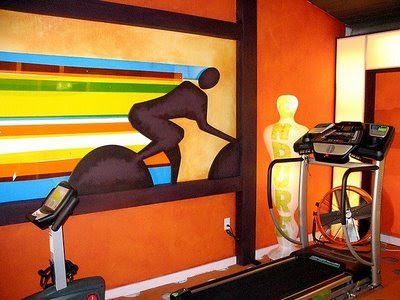 Other materials can be used to spruce the space up too. Exposed brickwork, chalk boards and wooden paneling can all make your home gym a warmer and more appealing place.
Home Gym Lighting
Natural light is energizing. Big windows that let plenty of light in are ideal for a home gym. Ensure your equipment is in the best position to take advantage of its positive qualities.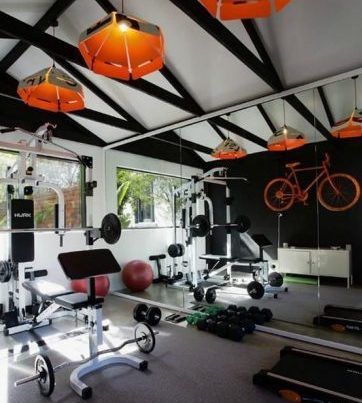 When natural light isn't an option artificial light can work. Softer lighting is preferable over glaring and harsh fluorescent bulbs. Overhead lights create an even distribution of light and are a popular option. Day light bulbs are a proven great choice if you need a bit of a boost in mood.  There are lots of cool lighting designs around ranging from simple spotlights to beautiful full ceiling installations.
Home Gym Storage
Often seen as dull, your basic gym essentials don't have to be bundled unattractively away in the corner. Accessories like gym balls and yoga mats can be stored in creative ways. Think about the hidden nooks and crannies of your home gym. What could you use them for?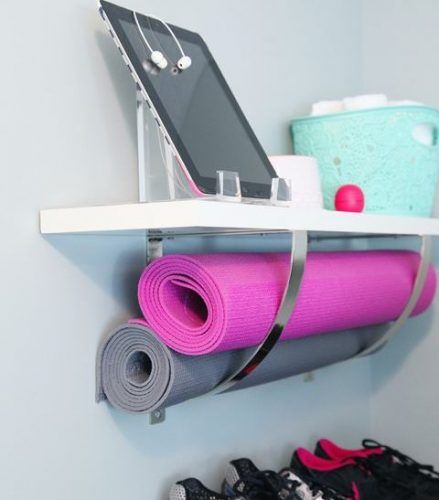 Perfectly placed, squeezed in gym accessories are satisfying to see and will keep your space nice and tidy.
How Can You Make It Feel Bigger?
Mirrors aren't just there so you can check yourself out when you're flexing those biceps. They can create the illusion of space which is important if your home gym is less spacious.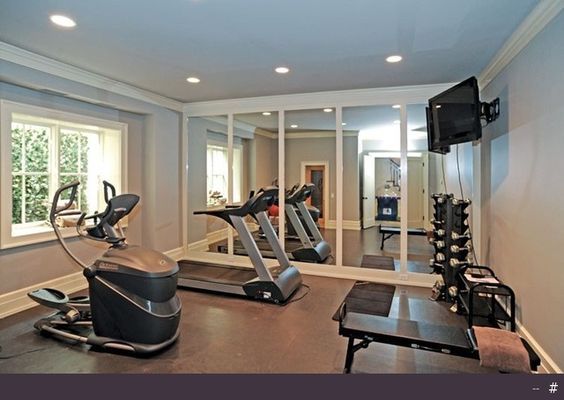 They're also a good idea for letting more light into the room too.
The Best Home Gym Equipment
Your gym is painted, kitted out with mirrors and lights and any other fixture and fitting you can imagine. It's time to move the proper gym equipment in. It might just be a treadmill or it could be a full high power home gym. We might be a little biased... but our outstanding reviews prove that JTX Fitness home gym equipment will keep you motivated for years to come.
These are just a few things to get you thinking about your gym design. We've popped some more home gym ideas that have caught our eye over on Pinterest. Maybe you can draw some inspiration like we did.