12 Christmas Fitness Challenges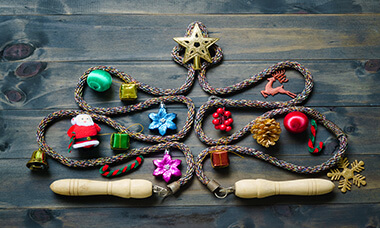 With Christmas just around the corner everyone's getting ready to unwind for the holidays, and exercise isn't exactly on the top of most people's wish lists.
Instead, we can't wait to kick back and relax in front of the fire with copious amounts of sweet treats. But this is arguably the most important time of the year to keep active. And the perfect way to do so is with the 12 Christmas fitness challenges.
1. Boxing Day Swim In The Sea
Warning, this one is going to require some guts and a heck of a lot of willpower but it's totally rewarding. Before slipping on your best Christmas attire and carving into the turkey, why not brave the icy cold seawater dressed as Santa Claus (or anything your imagination can come up with)
You'll be alongside thousands of others from all generations to help raise money for charity by going for a famous boxing day dip. Here's some of the most popular locations across the country if you're interested in getting involved:
2. Daily 10,000 steps
What better way to stay fit and healthy over the holiday period than getting out into the fresh air for a nice brisk walk. Why not get the whole family involved - including your furry friends! You can get competitive with it too by setting distance goals each day or even trying to beat your previous times.
The main thing is to just get out the door and keep that heart rate up. But if it gets too dark or cold at the end of the day, try to include a cross trainer or treadmill walk in the mix.
3. Get your ice skates on
The zap in temperatures this time of year sees many venues opening up outdoor ice rinks across the county for everyone to enjoy. You don't have to be the next Torvill and Dean to come and have a go!
The next time you're out and about, make a point of stopping off at the local ice skating park. It's a great way to break up a tedious day's shopping and is sure to elevate that heart rate.
4. Deliver Christmas cards on foot
This year why not ditch the normal methods of delivering your Christmas cards — aka the car and postage stamps, in favour of walking to family and friends houses that live close by. Yeap you heard that right.
Wrap up in your winter woollies, chuck all your Christmas cards in a big backpack and get walking. You'll be sure to get plenty of steps in and calories burned. How far will you walk or run to deliver a Christmas card?
5. Use TV ad breaks to exercise
There's most likely going to be countless TV shows and movies you're itching to watch over the festive season, but sitting for long periods of time in front of the telly isn't good. Why not use this as an opportunity to get fit. "How?" I hear you ask. How can I get fit while watching movies? Easy! With every ad break, get up and do some exercise! Star jumps, mountain climbers, squats, high knees and planks are just a few great exercises to try for as long as the ad break lasts.
On average you will have 4 ad breaks per hour so that's an opportunity to get 4 quick, but demanding, sets in. Over the course of a typical 2-hour movie, you've got yourself a pretty decent little workout.
6. Active presents
When the big day finally arrives and the kids on your street are itching to get out on their shiny new bikes and scooters, why not unleash your inner child and join in on the fun. One sure-fire way to burn a few extra calories is by trying to keep up with the kids on their new toys!
7. Time-efficient workouts (HIIT)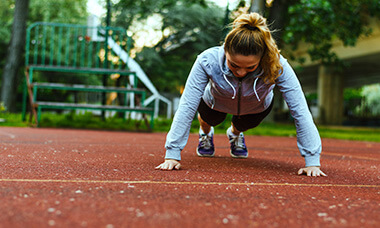 Many of us have hectic schedules over Christmas that make it seem virtually impossible to fit a workout in. But if you choose HIIT style workouts, you can get your daily fitness fix in 20 minutes or less — and they can be done anywhere!
What's more, HIIT workouts continue to burn calories long after you've finished, so if you do happen to have that extra mince pie you won't have to feel as guilty.
Here's a quick 20 minute Christmas HIIT workout to try. Feel free to play about with the exercises and rest times, customising it to your liking:
Squats 30 seconds, Rest 30 seconds
Pushups 30 seconds, Rest 30 seconds
Starjumps 30 seconds, Rest 30 seconds
Plank 30 second hold, Rest 30 seconds
Mountain climbers 30 seconds, Rest 30 seconds
Lunges alternating legs 30 seconds, Rest 30 seconds
Burpees 30 seconds, Rest 30 seconds
High knees 30 seconds, Rest 30 seconds
Side plank right 30 second hold, Rest 30 seconds
Side plank left 30 second hold, Rest 30 seconds
8. Sign up for a Santa dash
This simple fun run is put on over the Christmas holidays and sees volunteers dress up as Santa Claus. You can run on your own, as a family, with friends or even with colleagues as a way to support a number of different charities, or do it in memory of someone special.
The great advantage is that because of the dressing up element, it's not too serious and will attract many more people than a normal, more sporty event.
9. Try a game of Twister
Yes, twister, that elusive big plastic mat that makes an appearance every Christmas. It's a fantastic way to spend an evening over the holidays.
It may seem simple at first but after a few moves, the real fun begins and this game can quickly become quite physically demanding! Make sure you stretch your muscles before playing twister as it requires a lot of flexibility.
10. Turn up the festive tunes
When it's time to put up the Christmas tree and all the household decorations that come along with it, why not take the opportunity to blast out your favourite festive tunes and get your boogie on.
You'll be sure to work up a sweat and have a great time while doing so - even though your children might be hiding behind the sofa in embarrassment.
11. Bust out some moves at a charity Christmas dance
These events are held by various organisations across the UK such as W Fitness to raise some money for charities like 'The Recovery Shoebox Project'. They provide mental health toolkits free of charge for those in need.
All you have to do is give a small donation of around £5 and get ready to boogie. And don't worry, you don't have to be the next Chris Brown to come along as the lessons are suitable for all dance levels. Did we mention you also get a complimentary mince pie and coffee?
12. 1000 Push-up Challenge
With this challenge you are asked to complete, yeap you guessed it, 1000 push-ups. But the good news is you don't have to do them all at once — phew! You have 9 days starting from the 24th December until 1st January.
Still seem intimidating? A great way to tackle this challenge is to break it down into sizeable chunks by setting a daily target of around 111 push-ups per day. But remember, performing the same exercise on a daily basis requires a proper warm-up and cool-down routine to prevent injuries. And don't forget to check each day off on the calendar as you progress.