Treadmill Running With Nike Run Club
Looking for a boost in your treadmill running motivation? Then you've come to the right place as we bring you a review of the Nike Run Club treadmill runs. Whether you're wanting to increase endurance or improve your speed, this app has something for you.
From interval training to tempo runs, Nike Run Club features a range of guided audio runs to help you smash your fitness goals. Read on as we explore the app in more detail.
What is the Nike Run Club App?
Nike Run Club is one of Nike's free exercise apps. Whether you're running outside or on a treadmill, the app has something for everyone.
With integrated technology, you can use the app on your phone or smartwatch to track your distance, pace, splits and more to ensure you are smashing your fitness goals.
A key feature of the app is the large selection of guided runs that the user can listen to.
One of Nike's top coaches will speak to you throughout the workout, feeding you tips and tricks to ensure you are performing at your best.
A guided run could be a 60 minute treadmill run to increase endurance or a five minute fartlek if you're looking to focus on speed.
Other attributes of the app include weekly and monthly challenges where you can challenge yourself and friends, which is great for some friendly competition!
There is also a section on athlete stories which allows you to train virtually with some of the greatest runners of all time, including Eliud Kipchoge and Mo Farah.
How Do I Get The App?
The Nike Run Club App is free to download on iPhone and Android smartphones from the App Store or the Google Play Store. Alternatively, you can download the app onto your smartwatch.
How Do I Change The Settings To Show Miles/Kilometres?
You may prefer to measure your distance in miles, or you may choose kilometers instead. To select the one you favour, simply tap your profile icon at the top of the screen, then tap 'Settings' and you can change the units of measurement.
Why Are The Distances Different From The Treadmill?
Your treadmill will track your distance through its in-built computer which will display the measurement on the screen as soon as you press start on the treadmill.
The app might display your distance as slightly more or less than the treadmill due to the fact that it will start measuring distance as soon as your press start on the app. This distance may vary slightly to the treadmill due to timing and because they are two separate pieces of technology, the app does not connect to the treadmill. If you are looking for a smart treadmill that connects to other running apps browse our kinomap and Zwift Treadmill range.
How Does The App Track Distance Indoors?
Before you begin your treadmill run, you must ensure the app is switched to indoor mode. This can be done by tapping your profile icon, then clicking on 'Settings' and you can change the indoor/outdoor mode under 'Run Settings'. To track your distance indoors, the app uses your chosen device's accelerometer which constantly tracks your movement throughout the run.
Nike Treadmill Running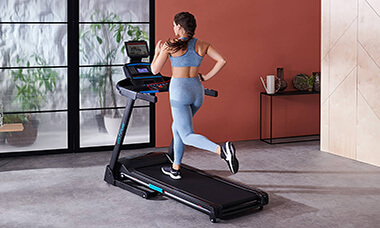 Every guided run on the Nike Run Club app can be used on a treadmill however, there are a selection that are specifically designed for treadmill running. All you need to do is press start and keep your phone or smartwatch on you for the duration of the run to allow the app to record your results.
If increasing distance and endurance is your goal, then the 60 minute 'Big Treadmill Run' is a great option for you. Nike coach Blue Benadum puts you through your paces as you complete this long recovery run.
The aim is to keep you focused throughout, with stress on starting slow and increasing pace towards the end to prevent burnout. As time progresses, the run prompts you to increase your pace or change the incline on the treadmill to gear you towards a sprint finish.
If you're a beginner or you're looking to ease yourself back into running, then the 'First Treadmill Run' is perfect for you. Nike coach Bennett takes you on an easy and fun 24 minute treadmill workout, the aim is to spark your interest in running and enhance your motivation.
The run starts off with a walk that slowly progresses into running at a comfortable pace. Constant guidance from the coach makes certain you are using your treadmill in the right way to hit your running goals.
Looking to get stronger and faster? Then the 'Treadhills' guided run can help you do just that.
This workout features interval training from Nike coach Manal Rostom which will see you exercise for just 25 minutes in total but burn a significant amount of calories!
The run is as follows:
2 minutes - 10k pace - 3% elevation
1 minute - 5K pace - 2% elevation
30 seconds - Mile pace - 1% elevation
You will complete the series 3 times with 1 minute rest in between each interval.
This run will help you maximise your cardiovascular activity and peak physical performance. The dedicated rest periods are extremely important as they allow for your body to replenish and recharge in order to continue working at a high level.
Summary
Here at JTX Fitness, we think the Nike Run Club treadmill runs are extremely effective for your training. Whether your goal is to increase your distance and endurance or if you are new to treadmill running, then the app has something for you.
At the end of each run, the app will feedback how far you have run, your average pace, total time, calories, cadence and splits. This ensures you are in line with your desired goals.
Incorporating a range of different treadmill running techniques into your training such as Fartlek and Tempo is the best way to switch up your training, smash your fitness goals and sustain a healthy active lifestyle.
Are you looking for a treadmill? Browse our treadmill range: