NPE Runn™ and Zwift Runpod Review
If you're looking to turn your treadmill into a smart, interactive treadmill, you've come to the right place. We guide you through the ins and outs of the NPE Runn™ Smart Treadmill Sensor and the Zwift Runpod. Both devices are designed to seamlessly connect to your Zwift app to measure and broadcast speed and cadence.
What Is Zwift?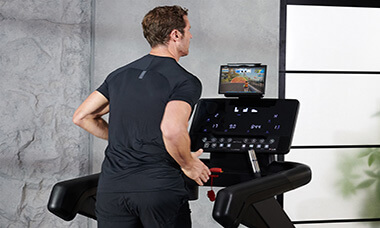 Zwift is an online cycling and running programme that allows users to interact, train and compete in a virtual world. It is available on smartphones, streaming devices and tablets.
To use the online platform with a treadmill, you will need a footpod, smart shoe or a treadmill sensor. Alternatively, JTX sells a full range of connected Kinomap and Zwift treadmills which directly connect via Bluetooth. This allows your on-screen avatar to respond to your workout data directly from your treadmill console.
Take a look at our treadmill running apps blog to find out more about Zwift.
What Is The NPE Runn™ Smart Treadmill Sensor?
North Pole Engineering designs technology and services for connectivity solutions. They designed the Runn™ Smart Treadmill Sensor which allows users to connect any treadmill to a range of fitness apps, turning it into a smart treadmill.
We tested the Runn™ with Zwift but it is also compatible with other popular apps such as Kinomap and Runsocial.
The device can be purchased on Zwift and can used on any treadmill. All JTX Fitness Treadmills can be used with the Runn™ and Zwift.
You also have the ability to connect a heart rate monitor such as the Polar Bluetooth H10 to receive specific heart rate information.
How It Works: Setting Up
The quick set up and ease of use is what makes the Runn™ so appealing. The device comes in a neat box and contains the Runn™, a cradle, adhesive tape, speed sensor stickers, a charging cable and an instruction leaflet.
The leaflet is simple and easy to follow but NPE also provide a Youtube video tutorial should you need it.
1: Charging
The device needs charging before it can be used. It takes approximately 1.5 hours to charge from 0 - 100% and this can be done using the charging cable. It uses roughly 5% of its battery during a 1 hour workout so you won't have to constantly charge it but we recommend using it on as much charge as possible for the most accurate results. Once charged, you are ready to mount the Runn™ to your treadmill.
3: Applying The Sensor Stickers
The speed sensor stickers are used to measure speed by reflecting light. Two to three stickers are recommended in order to produce accurate results. They need to be placed at least 18 inches apart on the treadmill belt and need to run directly under the treadmill sensor pickup. You can use the circles on the front of the Runn™ to help with alignment.
2: Mounting
It is recommended to install the Runn™ onto a flat area on the side of your treadmill. Ensuring it is far back enough so that you do not clip it whilst running. Using the cradle, temporarily set the device onto the treadmill deck. Make sure the speed sensor pickup is between 0.6 to 1.2cm away from the treadmill belt.
4: Checking It Works
To turn the Runn™ on, press the button on the back of the device twice. The right hand LED on the front will light up. Press the button once to turn on the sensor strip detection mode. Next, turn the treadmill on at a low speed. If working correctly, the left and right hand LEDs will flash one at a time as the sensor stickers pass underneath the speed sensor pickup. You can now apply the adhesive tape to the bottom of the cradle to cement the device in place.
Getting Started With Zwift
Now that your Runn™ is all set up, you are ready to start pairing and using Zwift. Again, we found this process simple and easy.
Calibration is recommended if this is your first time using the device or if your speed seems inaccurate. North Pole Engineering created a free app called Configurez which can be downloaded on the App Store or Google Play Store. Within the app, you can calibrate your Runn™, update it and more.
Open up Zwift on your chosen device, we recommend using a tablet due to its larger screen. All JTX Fitness Treadmills feature a sturdy tablet holder, ergonomically positioned to keep your form optimised for running. You can then log in to Zwift if you already have an account or create a new one.
Once logged in, you will be taken to the pairing screen. Select 'Run' at the top of the screen and select the icon of the treadmill.
The app will now search for your Runn™ and you can select it once it appears. Once connected, the Runn™ is now ready to track your speed and cadence. If you have a heart rate monitor, you can also pair that on this screen.
Before you start running, Zwift lets you select features such as the world you run in, your run type, length etc. You're now ready to start your run, it's that simple!
Runn™ and Zwift Pros and Cons
Pro: The Runn™ makes your treadmill smart and functionable with Zwift without having to pay for a more expensive smart treadmill.
Pro: The data that the device tracks and broadcasts on Zwift is accurate and detailed.
Pro: Zwift Run is completely free!
Pro: The Runn™ is quick, easy and simple to set up and use with Zwift.
Pro: Zwift keeps you motivated with its range of running courses/locations, the option to connect with friends and the ability to track and save important statistics.
Con: The device and the app will not automatically adjust your treadmills speed or incline, this has to be done manually.
Con: The stats on your app can vary slightly to those on your treadmill because your equipment does not link up directly with the app.
Con: The sensor stickers don't stay on forever but you are provided with a pack of 20.
What Is A Zwift Runpod?
The Zwift Runpod is a small piece of technology which turns your treadmill into an interactive machine at a low cost. It is described as a sensor that attaches to your shoe and measures speed, distance and cadence.
The installation process is as simple as removing the back of the product and placing it underneath your laces. The sensor is then placed on top and clicked into place with a clockwise twist. Zwift offer easy to follow step by step instructions on their website as well as a Youtube video tutorial.
The instructions for pairing with Zwift are the same as the NPE Runn™ Treadmill Sensor. Please seegetting started with Zwift.
As with the treadmill sensor, we found the Runpod easy to use and accurate. This product really stands out and offers users an affordable solution to creating an interactive at-home workout experience.
---
Have you tried out any treadmill running apps or devices with your JTX Fitness equipment? We'd love to hear about it!
Want more exercise advice and motivation? Sign up for our monthly emails.