iFit App Review
Looking for an interactive exercise experience? iFit is an extremely popular fitness app that can be used alongside most fitness equipment and integrates directly with a few brands. We've put the iFit app through its paces to see if it's really worth the money.
JTX Fitness App Reviews
Interactive fitness apps are constantly being launched and improved by the biggest brands in fitness. JTX Fitness reviews the best on the market, to be used alongside our fitness equipment so that you can keep your training fresh and motivation high.
Many of these apps are free or low cost, some are paid for subscriptions. Browse our fitness guide here to find out more about alternative fitness apps including Nike, Kinomap, Zwift and Peloton.
Can you trust us? Yes! This review is written for the benefit of our fitness equipment customers. iFit has no influence over the content and we have not been paid for this review.
iFit App Pros and Cons
Pro: Keeps you motivated with a huge selection of workout videos to follow along to.
Pro: Can be used alongside all JTX Fitness home gym equipment and also features classes that require no equipment.
Pro: The 30 day free trial allows you to see if it's suitable for you and your fitness goals before any payment is made.
Pro: There is access to wellness content and healthy recipes.
Con: The stats are unlikely to exactly match your fitness equipment because your equipment does not link up directly with the app unless you have an iFit enabled machine.
Con: The wide range of content can sometimes be overwhelming if you don't know what you're looking for.
Con: Another con is the ongoing expense of subscribing to the app when there are free alternatives out there.
iFit Set Up
When you first sign up, the app prompts you to input the following details into your profile:
Which Areas You'd Like To Improve In
Typical Daily Activity Level
Which Fitness Equipment You Like To Use
Which Muscle Groups You'd Like To Improve
What Days You Prefer To Workout
How Long You'd Like To Workout For
We really like the level of detail this profile section goes into. If you don't want to enter certain information, you can skip any of the above sections. You can always come back to this at a later date if you change your mind.
iFit Workouts: Live and On-Demand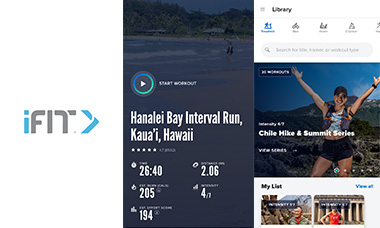 iFit offers both live and on-demand workout videos. The app features 7 different workout categories, from treadmill running to yoga. Each category features on-demand workouts and the treadmill and bike categories also feature live workouts.
The treadmill, exercise bike, rower and elliptical classes can be used alongside any JTX Fitness equipment. It's important to remember that the metrics reported and talked about on your iFit app are entirely separate to those on your JTX fitness equipment.
The live section allows the user to see what live workouts are available each day of the week. Live and on-demand workouts can be added to the calendar section to keep track of what workouts you have scheduled.
During live workouts, users can follow along with the trainer but will have to adjust their equipment themselves to match that of the trainer's. This is because the app does not directly link up with fitness equipment unless it has iFit compatibility.
If on-demand is more for you, there are plenty of classes to choose from. The app has a great search function which allows users to filter by duration and intensity, for example.
Each class is led by a professional trainer who will guide you through each workout in detail. You can follow classes from stunning destinations across the world or follow a trainer in the studio.
iFit Treadmill Videos
The treadmill section of the app contains a vast amount of classes suitable for every type of user.
Adding an interactive element to your treadmill training is a great way to stay motivated to achieve your goals. You can follow along to these videos on your JTX Fitness Treadmill.
iFit features a range of workouts and series that focus on walking, from beginners up to experienced walkers.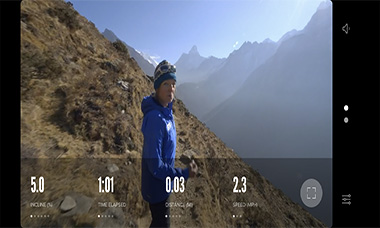 'Everest: A Trek To Base Camp' is an 18 part series that takes you up 17,500+ feet to the base camp of the tallest mountain in the world. Prepare to experience breathtaking views from the comfort of your own home.
If you're short on time but want to get your steps in, the app has a 'Quick Walks' series featuring 15 walking workouts. The 'Meeting Of The Waters Walk' in New Zealand takes you through the Maungakawa Scenic Reserve. iFit guide Jed Brophy educates you about the indigenous plants in the reserve as you complete this picturesque walk.
Fancy a run along a beautiful Hawaiian beach? Give the 'Hanalei Bay Interval Run' a go. iFit trainer Stacie Clark takes you through intervals completed at a 7-8 RPE with a 1:2 work to rest ratio. This workout lasts for 20 minutes and is great if you're looking to build speed and power.
For long distance runners, the 'Niagara Falls 10K' is a great option. Lasting just over an hour, iFit trainer John Peel will coach you throughout this epic waterfall run. You'll be fed tips on how to maintain a steady pace which will help increase endurance and stamina.
iFit Summary
With thousands of online exercise classes, iFit definitely has something for everyone. It's range of global workouts keeps you engaged and enhances your workout experience.
If improving technique is a goal of yours, then iFit's studio led classes offer detailed guidance to help each user improve performance and increase fitness levels.
The wellness content on the app is great for those looking to restore and revitalise their mind as well as their body. From yoga to meditation, the app offers a range of suitable content.
Overall, we think the iFit app is an excellent choice for those looking to add an interactive experience to their training. Download it today on the App Store or the Google Play Store.
Browse our treadmill tech advice