Foam Roller Workout Videos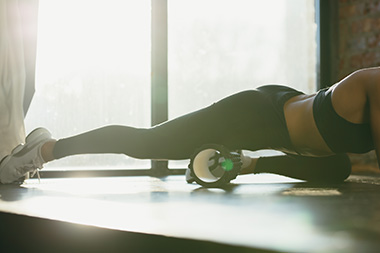 Foam rollers are an extremely useful and popular fitness accessory that can be used by anyone. It can be beneficial to complete a foam roller workout before exercise, after exercise or anytime that you feel a self massage is necessary.
Foam rollers come in all different shapes and sizes, each of which provide a slightly different massage. For instance, smooth foam rollers provide an even pressure to the muscles whilst textured foam rollers target deeper knots and tighter areas.
Our Favourite Foam Roller Workouts
To help you get the most out of your foam roller and to ensure you are using it correctly, we've gathered up 4 of the best foam roller workout videos for you to follow along to. These Youtube videos are completely free and can be viewed on your smartphone or tablet. Simply grab your foam roller to get started!
How To Use A Foam Roller
The Body Coach TV Video
Popular fitness coach, Joe Wicks, teaches you how to accurately use a foam roller in this video. Focusing on 6 different muscles you'll spend around 30-40 seconds on each exercise, ensuring every move is completed with perfect form. The video shows how you can modify the moves to either add or ease pressure. For example, crossing one leg over the other when rolling out the calves will allow you to dig deeper into the muscle.
Foam Roller Exercises | Learn How To Foam Roll | Full Body Foam Roller Workout
Fit Nation Video
Led by Marin at Fit Nation, this video uses a short foam roller to target the whole body. The routine consists of 9 exercises in total, starting with the calves. Although these videos require you to follow an instructor, it's worth remembering that you can make the routine your own. Spend more time in one area if necessary or modify the exercises to suit your individual needs. Throughout the video, you'll be coached on how to perform each move and the benefits that each one can provide.
10 Minute Full Body Foam Roller Routine
Sydney Cummings Video
Instructor Sydney Cummings takes you through this 10 minute foam roller workout which focuses on the legs. You are guided through each exercise in detail with a countdown timer ticking on the screen so that you're able to keep track of how long is remaining.
The instructor uses a long, textured foam roller which allows you to target problem areas with ease. As mentioned in the video, an important thing to remember when foam rolling is not to cross over joints. In particular, make sure you don't roll over your knee joint when rolling from your quadricep to your shin.
5 Minute Foam Rolling Routine | Good Moves
Well+Good Video
Short on time? This foam roller workout takes you through a selection of exercises in just 5 minutes. The instructor highlights the importance of breathing throughout the routine as you roll out your legs. Foam rolling can be done anytime, anywhere, whether that be post workout or after a long day of sitting down. This video was designed to fit in to your lifestyle due to its short length.
Foam Roller Benefits
Most commonly, foam rollers are used to ease muscle soreness caused by exercise, also known as DOMS (Delayed onset muscle soreness). However, there are a number of great foam roller benefits, some of which are listed below:
1. Increases range of motion which allows you to perform at a high level.

2. Improves flexibility to enable you execute deeper moves with ease.

3. Speeds up recovery so that you're able to continue to exercise and train.

4. Prevents injury to ensure you are able to achieve your fitness goals.

5. Increases blood flow which allows the muscles to work at their optimum level.

6. Breaks up fascia, which supports surrounding tissue, in order to assist with functional movement.