HEART RATE TRAINING
Get faster and fitter with heart rate training. Heart rate training can help you beat your personal bests, avoid injury and improve endurance. By tracking your BPM (beats per minute) during exercise, you can train at optimum levels of intensity, to reach your fitness goals. We've put together this guide, so you can get the most from your workouts with heart rate training.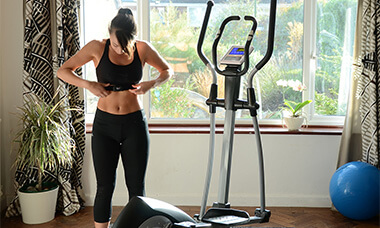 What is heart rate training?
Heart Rate training measures your BPM, to calculate the intensity of a workout, or how hard the body is working.
Rather than basing training goals around set distances or speed metrics, heart rate training encourages you to maintain certain levels of intensity, based on your BPM.
Heart rate training accounts for your individual fitness level so every workout is personalised. These levels of intensity are known as Heart Rate Zones; they will be different for everyone because they're based on your maximum heart rate. Let's have a look at these terms.
MAXIMUM HEART RATE AND HEART RATE ZONES
Maximum Heart Rate
Your maximum heart rate is the top figure your BPM will reach during high intensity workouts. This figure will be different across individuals, depending on age, base fitness level and personal variation.
So, how can you work out your maximum heart rate? The traditional formula is 220 - your age. If you've got JTX fitness equipment with heart rate training built in, this is how it will calculate your max heart rate, and your heart rate training zones. This is an estimate, which for most people hoping to improve their fitness, will be good enough.
If you really get into heart rate training, you might want to get a more accurate figure. To do this, you'll have to train as hard as humanly possible, to get your heart rate up to its maximum. This is known as a field test and is only recommended for people with a good level of existing fitness. One method is to run as fast as you can bear for 3 minutes. Rest for 3 minutes, then repeat. The highest heart rate reading from your second run will be a more accurate max heart rate.
Heart Rate Zones
Now you know your maximum heart rates, you can start working in the right heart rate zone for your fitness goals. There are 5 heart rate zones, each with different benefits. Heart rate training relies on working out your goals and training in the heart rate zone that will enable you to get there.
So, let's have a look at the training zones. We've listed the benefits of training in each zone so you can work out your own target heart rate.
ZONE 1. Warm Up & Cool Down
VERY LIGHT. 50-60% OF YOUR MAXIMUM HEART RATE (BETWEEN 104–114 BPM, OR BEATS PER MINUTE).
Working in this zone is mainly for warm ups and cool downs. It also helps the body recover, so can be good for rest days. It should feel very easy, like you're hardly working at all. Effort level - 4/10.
ZONE 2. Fat Burning
LIGHT. 60-70% OF YOUR MAXIMUM HEART RATE (BETWEEN 114 AND 133 BPM).
Working in this zone boosts metabolism and maximises fat burning. In this zone, your body fuels itself with 85 percent fat, 5 percent protein, and 10 percent carbohydrate. You should be able to hold a conversation comfortably here. Effort level - 5-6/10
ZONE 3. Increased steady pace endurance
MODERATE. 70-80% OF YOUR MAXIMUM HEART RATE (BETWEEN 133-152 BPM).
Working in this zone improves your aerobic base fitness, essentially the amount of time you'll be able to hold a steady pace for. It also encourages the body to form new blood vessels, and so increases your heart and lung capacity. Effort Level - 7/10.
ZONE 4. Increased Speed & Lactate Threshold
HARD. 80–90% OF YOUR MAXIMUM HEART RATE (BETWEEN 152–172 BPM).
Working out in this zone is seriously hard work but it will increase your ability to train faster by improving your anaerobic fitness. Your lactate threshold (how long you can maintain high speed for) will also increase. In other words, working in zone 4 is a must if your goal is to get faster. Effort level - 8/10 .
ZONE 5. High Calorie Burn
VERY HARD. 90-100% OF YOUR MAXIMUM HEART RATE (BETWEEN 172 AND ABOVE BPM).
All out intensity. You won't be able to train in this zone for more than a few minutes and you probably won't need to. This zone is good for experienced athletes pre-race. It's also good for HIIT workouts, where the aim is to burn high amounts of calories. Effort level - 10/10.
Benefits of Heart Rate Training
Heart rate training has an incredible range of benefits. Here are some specific goals heart rate training can help you with;
Heart Rate Training For Endurance
If you want to get better at maintaining a steady pace for longer periods of time, you'll want to focus on aerobic fitness and train in zone 3. Maybe you're planning on running a long distance race, where maintaining a steady pace will be necessary.
Aerobic literally means 'with oxygen', which the body utilises during aerobic exercise. Working out in zone 3 will improve the transportation of oxygen throughout the body. This in turn, improves circulation of blood flow and increases energy levels and stamina. When aerobic exercise is performed regularly, these benefits lead to increased endurance at a steady pace.
You should aim to spend a minimum of 20 minutes in zone 3 to achieve the benefits of aerobic training.
Heart Rate Training For Speed
If you want to get faster, and maintain a fast pace, you'll want to focus on anaerobic fitness and train in zone 4. This would be perfect if you wanted to improve your sprint time.
Anaerobic means 'without oxygen', when you train in this zone your body will stop utilizing oxygen as its primary way to get energy. Instead it utilises a molecule in the muscles, called creatine. The use of creatine promotes gains in muscular strength. It also leads to increases in lean muscle mass and stronger joints. Over time, the muscular benefits will result in increased speed.
Anaerobic activities are also excellent for increasing levels, improving short burst explosiveness, speed, agility, and overall sports performance.
Heart rate training for recovery
To optimise performance, it's essential to make sure you're recovering properly and not over-training. Recovery time is very important for our fitness progress, but it's often overlooked. Allowing our bodies to repair themselves means we can come back stronger, avoid exhaustion and a weakened immune systems.
Training with a plan based on pace or distance, we keep pushing through to hit targets, often resulting in injury or fatigue. But a training plan based on heart rate ensures that you're listening to your body. You'll be able to see when you need to recover, take your recovery time and then keep pushing through to reach your targets.
A great way to ensure full recovery and avoid injury is to get into the habit of checking your morning heart rate. You'll soon work out your normal resting heart rate after a week of checking each morning. As you improve your fitness, your resting heart rate will decrease. During training, if your morning heart rate is higher than usual, this is a sign your body is recovering and you need a rest day.
Ensuring full recovery between each workout by listening to your heart rate will help you achieve the best results possible. Remember, everybody is different and everyone needs different lengths of recovery time.
Heart rate training for HIIT training
HIIT, or high-intensity interval training is a really popular workout at the moment. It involves exercising at maximum effort for a short period of time (usually a minute), allowing your body to rest for a short period of time (again, usually a minute), and repeating. HIIT has been widely advocated because it allows you to burn a large amount of calories in a short amount of time. If it's your aim to reach, or to maintain a healthy weight, you can probably see the appeal.
Heart rate training can help you make the most of your HIIT sessions, by personalising your workout. The standard one minute on, one minute off, won't work for everyone. You should be allowing your heart rate to return to Zone 1 before repeating your high-intensity exercise, so you can give it 100% each time. Otherwise, you could be defaulting to an ordinary workout, training in zone 3. HIIT training workouts are mostly done on cardio equipment or with kettlebells.
BEST EQUIPMENT FOR HEART RATE TRAINING
Once you've decided on your fitness goals, and your target heart rate, it's time to get training. You'll want to look for equipment with built-in heart rate training programs, that allow you to input your target heart rate zone. You'll also need a heart monitor which has a connection to your equipment. Your fitness equipment will ideally have an automated setting to adjust speed or resistance keep you within your desired heart rate zone.
If you'd like to start heart rate training, or to learn more about our equipment, here's a selection of some of our products with in-built heart rate training programs:
If you're already the proud owner of JTX fitness equipment, check out the in-built heart rate training programs! Check out our blog post on how to use heart rate monitors with our fitness equipment.
---
HAVE YOU started heart rate training WITH YOUR JTX EQUIPMENT YET? WE'D LOVE TO HEAR ABOUT IT!
What do you love about heart rate training? Get in touch and let us know!