Kinomap Review
Keep your treadmill running motivation high with the Kinomap app. The app allows you to run through stunning scenery from around the globe whilst viewing detailed statistics on your performance. Kinomap can be downloaded from the App Store or Google Play Store and can be used on your mobile phone or tablet. Read on for our Kinomap review.
Will My Treadmill Work With Kinomap?
The JTX Treadmills are all compatible with the Kinomap app via bluetooth, excluding the JTX MoveLight: Walking Treadmill and the JTX Sprint-3. Once connected, the app will receive speed and incline information directly from your treadmill. Your JTX Treadmill will also automatically change its incline to match your selected running route.
If your treadmill does not have Kinomap compatibility via Bluetooth, you can use an NPE Runn™ Smart Treadmill Sensor to connect to the app. This device effortlessly attaches to the side of your treadmill and transmits accurate speed and incline data from your machine to the Kinomap app.
Kinomap App Pros and Cons
Pro: All JTX Fitness Treadmills are Kinomap compatible either via Bluetooth or a sensor (sold separately).
Pro: You can train all over the world with videos filmed by users themselves and also instructor-led coaching videos. This brings variety to your training and helps you reach your fitness goals.
Pro: Once you have finished your training session, you can upload your activity directly to Strava.
Pro: The app offers a 14 day free trial so you can test it out before committing to the paid version.
Pro: The ability to share your achievements, track progress and challenge friends keeps you motivated.
Con: The app's interface is not as user friendly as some other interactive exercise apps.
Con: There is no in-app music.
Con: There is the ongoing expense of subscribing to the app when there are free alternatives out there. However, it is currently cheaper than iFit and Peloton.
Connecting your JTX Fitness Treadmill To Kinomap
To connect your JTX Fitness Treadmill to Kinomap, simply follow the steps below:
1. Download Kinomap onto your device from the App Store or Google Play Store.
2. Ensure the Bluetooth on your device is turned ON.
3. Open the Kinomap app.
4. Activate the 'more' menu (the icon is the box with three horizontal lines).
5. Select 'Equipment Management' (The spanner icon).
6. Select 'Add' (The + icon in the top right hand corner).
7. Select 'Treadmill'.
8. Select JTX Fitness from the list.
9. Select your model, e.g. Sprint-9.
10. Screen will show 'Discovered; i-Running'. Select iRunning. Your treadmill screen will beep and show a Bluetooth icon if successfully paired.
11. Press 'Done' in the top right hand corner of your device.
How Does Kinomap Work?
Kinomap works by allowing app users to upload their own videos from workouts they have completed.
Other users can then follow along to these videos virtually on their machines and see detailed metrics on their performance such as speed and incline.
In 2019, Kinomap introduced the 'Coaching' feature to their popular platform.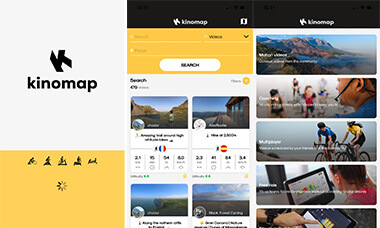 This features videos uploaded by instructors who guide you through a workout indoors. Users can filter these videos by equipment type and language to ensure they pick the right class to suit their fitness goals.
If you're all about numbers, then the app has a 'Free Ride' section. Once you start your workout on your chosen piece of equipment, you can monitor and keep track of detailed metrics such as watts and speed. This allows you to focus purely on statistics to ensure you are reaching your goals.
Remote Display Feature
Kinomap have introduced the remote display feature for user's that prefer to watch videos on a bigger screen. Your mobile phone or tablet becomes a remote control and your video is displayed on a larger screen, this can be anything that has an internet browser such as a laptop or internet TV.
Best Kinomap Treadmill Videos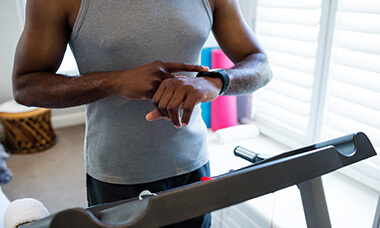 With thousands of videos filmed in 90 different countries, Kinomap features something for all tastes. You could be walking through the snowy streets of Poland or running with your toes in the sand in Punta Cana.
BEST FOR BEGINNERS:
If you want to run your first 5K on your treadmill, 'NHS Choices' have uploaded a week by week description of the 9 week long Couch to 5K podcasts. You can follow along with the trainer as they run through trails in America whilst guiding you through the different sections of the programme. The aim is to be able to run a 5K by the end of the 9 weeks.
BEST FOR INTERMEDIATE RUNNERS
For endurance runners who want to complete a long run, the 'Buzz of the beach' run uploaded by 'Running_Unlimited' is a great choice. With 9km as the desired distance, you will run along the beautiful Papamoa beach in New Zealand. This run will be sure to maintain and increase your stamina.
BEST INTERVAL TRAINING VIDEO
High intensity interval training (HIIT) is an excellent way to burn calories whilst also building muscle. The '30 Minute HIIT Treadmill Workout' uploaded by 'LudginaDieujuste' takes you through intervals completed at varying speeds and inclines. Trainer Ludgina feeds you tips and tricks throughout the workout to make sure you are working at a high level.
Kinomap Summary
Overall, Kinomap is great for its seamless integration. The automatic incline adjustments to match the terrain of your running route allows you to focus on your workout without having to play around with the buttons on the treadmill.
The coaching functionality of the app is great for users looking to replicate an instructor-led gym class from the comfort of their own home.
Although the amount of videos to follow can sometimes be overwhelming, users will struggle to get bored due to the wide range of content available. You can travel all over the world without ever leaving your house.
Finally, the ability to share your achievements and challenge your friends will be sure to keep you motivated and add an element of fun to your training. Download Kinomap on the App Store or the Google Play Store today.
Our Running Apps and Technology page looks at other running apps and gadgets you can use to enhance your home workouts.
Browse our treadmill tech advice