Workout Plan to Fit Around Childcare
Welcome to the second post in our lockdown workout schedule series. Personal trainer, Jess Lees, has designed this workout plan for those of you with kids at home. The routine is flexible, so that you can fit it around your childcare and homeschooling commitments.
This workout plan provides two different workouts (day 1 and day 2), to be done whenever you may not have childcare commitments. If you're able to workout every other day, you could alternate between day 1 and 2 on workout days. Or perhaps you'll only fit in two workouts a week. Celebrate whatever you can achieve.
Day 1: Strength training circuit and mini HIIT
On day 1 of the workout plan, do a quick warm up before starting strength training. This is followed by a HIIT circuit.
Strength training circuit
Push ups – 10-12 reps
Squats – 10-12 reps
Plank – 30-60 seconds (see image)
Russian Twists – 10 each side
Dips – 10-12 reps
Lunge – 10 reps each side
Rest for 2 minutes after the circuit. Complete the circuit 3 times.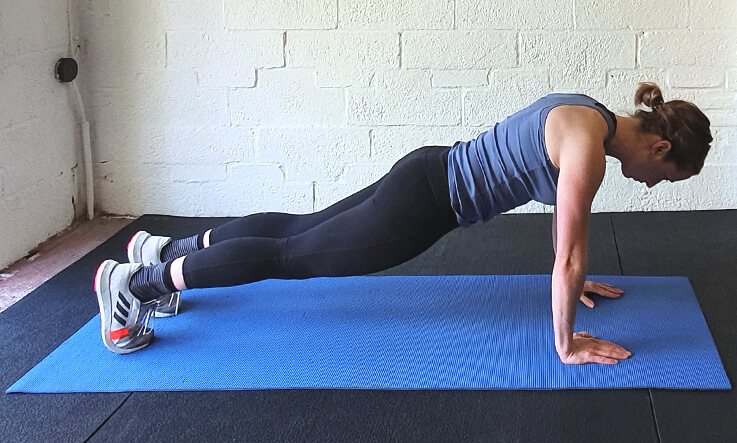 HIIT circuit
Burpees
Mountain climbers (see image)
Star jumps
50 seconds on 10 seconds off. Repeat 5 times with a 60 second break in between circuits. Then, stretch and cool down.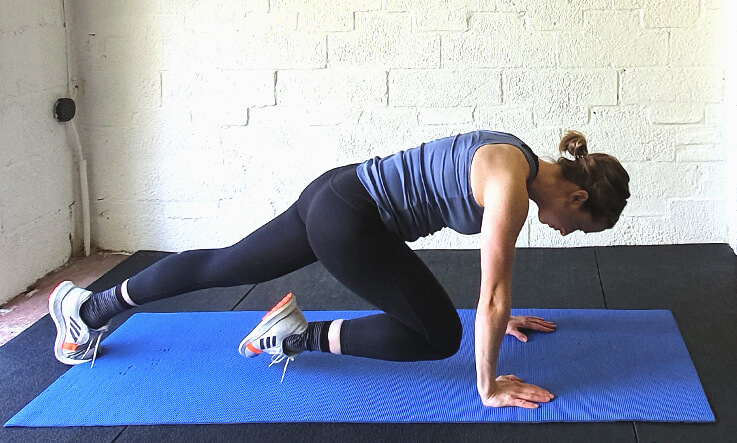 Day 2: Cardio circuits and ab blast
On day 2 of the workout plan, do a quick warm up before starting circuits.
Circuit 1
Repeat this circuit four times:
Jog on the spot – 45 seconds
Star jumps – 45 seconds
High knees – 45 seconds
45 seconds rest
Then have two minutes rest, before circuit 2.
Circuit 2
Repeat this circuit three times:
Squat thrusts – 45 seconds
Plyo lunges – 45 Seconds
Body weight squats – 45 seconds
60 seconds rest
Ab blast
Leg raises – 15/20 raises
Plank – 60 seconds
Side plank – 60 second hold on each side
Ab cycles – 20 (see image)
Swimmers – 45 seconds
Then, stretch and cooldown.
Activities to Support the Workout Plan
On days you aren't exercising, try to:
Have 15 mins alone before being 'in charge'. Stretch and mobilise.
Do 10 mins breath work or square breathing.
Start the day with your kids doing the Joe Wicks PE session. Go all out, try to move around as much as possible.
During the day with your kids, try to include physical activities.
Whenever there is a chance, try to stand rather than sit – take this moment to check your posture and move around.
Work on your flexibility before bed, if you get a chance to watch something on TV – get on the floor and stretch whilst you watch. Just a simple 5/10 mins routine.
We hope this workout plan helps you to stay fit and feel good while juggling childcare commitments. If you're looking for more home workout inspiration, check out our library of workout videos and training plans: