Inspired By The Women's World Cup?
Other Hidden Sporting Gems To Discover This Summer
As we get into the final stages of the FIFA Women's World Cup the buzz around women's sport has never been greater. Every match is being shown on the BBC. It has more backing and talent on display than ever before. We hope it becomes a cultural tipping point.
As the appreciation of the Women's World Cup reaches new heights we turn the spotlight on other summer sporting events that deserve more attention. It would be great to hear your favourite hidden sporting gems in the comments below.
The European Games
When: June 12th-June 28th
Where: Azerbaijan
See It Here: BT Sport
Now entering their final stretch in Baku, Azerbaijan, the inaugural European Games have exceeded expectations. 27 British medals have been won and team GB are currently in 4th place on the medal table.
The games have been shown on BT Sport throughout their run. With 20 sports, 30 disciplines and 50 nations competing they have offered a great representation of sport from all over Europe. Famous faces on show include boxing's Nicola Adams and judo's Ashley McKenzie. Not only are the athletes talented and impressive in their field, but, they provide the perfect inspiration to get fit and healthy for the summer.
The Beach Volleyball World Championships
When: June 26th-July 5th
Where: The Netherlands
Hosted in The Netherlands over June and July The Beach Volleyball World Championships are upon us. Beach volleyball equates to all that's fun about summer sport; jumping around in the sun and sand with your friends and team mates.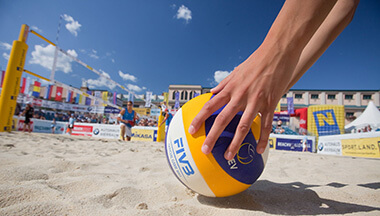 One of the great effects of watching sporting events is that they inspire you to have a go yourself. The 2012 Olympics had a huge impact on participation in sport around the UK; there was a 750,000 person increase in adults playing sport at least once a week by the following year.
The JTX team have been getting a touch inspired and had a crack at the Active Sussex Workplace Challenge volleyball tournament last week. We weren't the worst, we weren't the best, but we probably had the most fun!
University Summer Games
When: July 3rd- 14th July
Where: Gwangju, South Korea
Read About It Here: Official Summer Universiade Website
Also referred to as the Summer Universiade, they start at the beginning of July in South Korea. The event has been going for over 50 years making it an established and well respected display of the future in sport. This year 12,000 students representing over 150 countries will descend upon Gwangju, South Korea and will compete in over 20 events. 48% of Olympic medalists are also Universiade medalists. Claimed by organisers to be the largest sporting event after the Olympics these games are important and deserve more coverage.
Mud Olympics
When: July 29th
Where: Brunsbüttel, Germany
Read About It Here: Official Wattoluempia Website
Also known as Wattolümpiade this modern Olympiad  is on the 29th of July. It doesn't host the most choice of athletes, but it does seem like it could be very, very fun. In its purest form it is a mud Olympics. It is a very odd German event held on the mudflats of the Elbe River once the tide has gone out. Events like football, handball and the long-distance rubber boot toss are all featured in the games' line up.
This one isn't being aired on any mainstream television channels, but if you happen to be near the Hamburg area of Germany it's definitely worth taking a look at, or maybe, taking part.
There's lots to watch in the sporting world this Summer and plenty you can get involved in too. So get inspired and open up to some new and exciting sporting adventures.
What summer sports events top your list of under appreciated favourites?
Photo Credit: telegraph.co.uk, bbc sport, vine, BUCS, cev.lu