Best Fitness Tracker Comparison: Which One's Right For You?
Tracking your workouts and day to day activity helps to keep you on top of your personal fitness and overall health. There are hundreds of apps and trackers on the market that measure these stats. We reviewed and rated the best fitness trackers and apps so you can invest in what's right for you. Starting with apps...
Map My Run
Score: 8/10
One of the most popular and well known running apps around. It accurately tracks your run via your phone's GPS and gives you audio updates to keep you on track. Map my run does what it says on the tin with a few extras on top.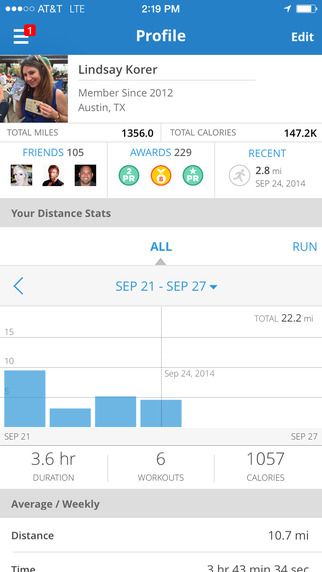 Positives:
Records all of your key stats including mileage and pace.
Keeps you notified on your pace throughout your workout via audio updates.
Offers suggested routes; perfect if you're looking for a new route in your local area, or if you're visiting somewhere new.
Negatives:
It's a bit fiddly to stop at the end of a run.
Occasionally, the tracking can seem inaccurate.
Zombies, Run!
Score: 5/10
Run away from zombies and help save the human race. This app gamifies your run and aims to make for a more interactive session by making you the hero of your story.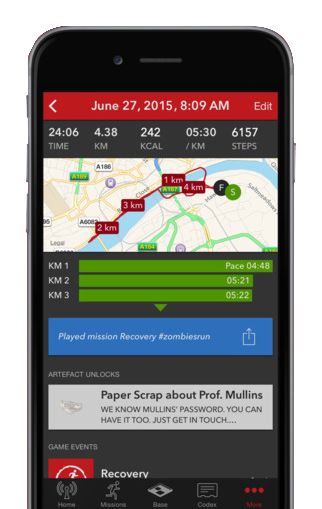 Positives:
You can choose the distance you want to run and it motivates accordingly.
It's different and makes a change from your normal run trackers.
There's a story to follow to distract you. It can liven up a cold and dark winter run!
Negatives:
The narrative is quite intermittent and not as engaging as you may hope.
Cuts out your music for lengthy periods. This can be irritating if you're feeling a song.
When first starting out it's not clear what everything in the game means or what you're supposed to do. For example when you pick up supplies or documents, are you actually supposed to do something?
Strava
Score: 7/10
Good for that hidden competitive edge you've been secretly harbouring. Strava is one of the original tracking apps and is still one of the most popular.
Positives:
Much like MapMyRun, Strava tracks calories, time, distance etc: it has all the essentials.
Velo Viewer is great for stats, an outside website that connects with the app.
Competing with the Strava community in different segments can push you that bit further.
Challenges let you rank month to month with fellow users. It's a positive push to work towards a goal.
Negatives:
About 5% of of my runs when I was testing were inaccurate.
The app takes a while to load when you want to stop the clock which makes your stats drag at the end.
Couch to 5k
Score: 6/10
Created to encourage complete beginners to challenge themselves to complete 5km, this app sets realistic goals that almost anyone can achieve.
Positives:
Gives beginners that starting point needed. If you're not used to running, or if you're scared to start, this app supports you through it.
Like the other apps, you can listen to your own music whilst you work out.
The narrator constantly supports you and updates you on how far you have left to go which is perfect if all you want to do is cross that finish line.
Negatives:
Each session has set times where you run or walk. It makes it hard to adapt yourself and often the want to pause it is overwhelming.
Not that encouraging to push yourself past the 5km mark.
Again, fiddly when it comes to stopping the app at the end of a run. As with most tracking apps.
If you want to avoid the hassle of fiddling around on your phone a wearable fitness tracker might be more up your alley. They're simple to use and compatible with most popular fitness apps, making sure that your stats carry over...
Fitbit Charge
Score: 8/10
This is the fitness tracker everyone seems to have. It looks good and has a lot to offer. Currently retailing at £99
Positives:
Easy to read display with accurate tracking during workout. All right there, on your wrist.
Solid and reliable metrics.
The app supports you with your goals. Set a goal and the watch will keep you updated on what you need to do to achieve it.
Negatives:
The clasp- It can be a bit flimsy.
It doesn't track your heart rate. You would have to think about upgrading to the FitBit Charge HR, which costs more money, but has more stats available.
Jawbone Up 2
Score: 6/10
More for day to day life this fitness tracker is cost effective and looks good. Currently retailing at £40.
Positives:
The Jawbone app is fantastic.
Light, you don't really notice when wearing it.
Negatives:
Misses some key information such as heart rate and calorie count during work outs.
It doesn't have GPS. If you're a serious runner this will more than likely hinder you.
Apple Watch Sport
Score: 9/10
This stylishly designed watch is a must have for any apple addict who is looking for a wearable. Currently retailing at £299.
Positives:
Familiar and simple to use interface.
Completely in sync with your iphone.
Loads of apps are compatible.
Arguably the best looking fitness tracker on the market.
Negatives:
It's expensive in comparison to other fitness trackers.
Classic apple battery life. Doesn't last longer than a day.
Hopefully this breakdown of the most popular apps and fitness trackers is helpful. Let us know what you end up using and how you get on.