How To Run Better In Winter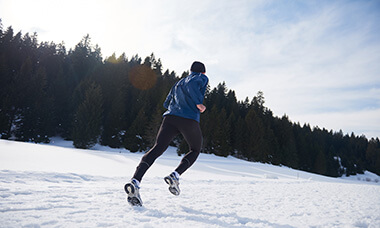 When it's cold outside it's easy to put your winter running plans on hold. But this guide is here to help you keep your training consistent.
We'll cover dressing for a cold run, how to plan your routes and wind chill.
But if the conditions seem too dangerous to run, please run inside or delay it for another day.
13 Tips For Running in Cold Weather
1. Invite A Friend
It doesn't matter if they run at a different pace. If they are generally slower than you, just meet them for the first part of your run. If they are fitter than you, just agree to join part of their run. Having the running date booked in will motivate you to get out the house, despite the weather.
2. Be Prepared
Be prepared to change quickly after the run. Ideally, get a drink and warm clothes ready before you leave the house. Then you can shower and change without too much delay on your return to avoid any post-run chills.
The clothes should be flexible enough to allow you to do your warm down stretches too. If you have to drive to your running spot, make sure you pack dry clothes, a warm hat and ideally a thermos too.
3. Warm Up
Warm up indoors before you start to get your body temperature up; burpees, jumping jacks, dance or yoga sun salutations. Those first few minutes of the run will feel so much better as a result.
4. Start Easy
Start running at an easy pace and the slowest pace of the whole run. This will stop you from straining muscles, ligaments and tendons in cold temperatures. No matter how cold you are, don't rush this warm up phase.
5. Run Into The Wind
Run into the wind as you start - particular if you are running out and back. Over the course of the run, you are likely to build up sweat in your clothes.
The cold wind will chill that sweat and that's better for it to be directed towards your back than onto your chest as you run. There is also the psychological advantage that you'll gain from knowing that you'll have the wind pushing you home after half way.
6. Understand Wind Chill
Take time to check the weather in advance and take into consideration the wind chill conditions. Wind chill measures what the temperature feels like to you, on your skin rather than the actual temperature. Wind has the ability to blow away the thin layer of heat you have around your body that you naturally produce. Adjust what you wear, how long you spend running and your pace based on the forecast wind chill rather than general air temperature.
7. Be Aware
Be aware of the moisture menace when running in the cold. We all love a little bit of snow for a few days but the remaining slush and ice can be treacherous. If it's icy, there is no way around it. Head to the treadmill and run safely. You can keep treadmill running exciting and challenging with the treadmill apps we have reviewed.
8. Wear A Hat With A Brim
We are based in the UK and most of our readers are based in the UK too. So you can safely assume that if you are running in the cold then running in the rain is also quite likely. A brim will help maintain visibility. Ensure the hat is adjustable, breathable/ sweat wicking and tight enough that the wind doesn't blow it off.
9. Wear Layers
The most important layer is the one closest to your body. Ensure it has sweat wicking capabilities. This will help ensure the sweat doesn't cool you down, particularly on a cold windy day.
The next layer will keep you warm, like a long sleeve light weight running top and the third layer should be wind and water resistant but still breathable. The windproof layer should be easily removable, should you need to cool down on your run.
10. Prioritise
Prioritise chest, feet, head and hands: wear gloves, running socks and ideally water resistant trainers that have Gore-Tex uppers and your brimmed hat (as described above).
11. Prevent Sores
If you are running in the rain, you are more likely to get skin sores and chafing. Vaseline can work wonders on your feet, inner thighs, underarms and chest to help prevent the chafing.
12. Stay Safe
Plan a route before you leave but be prepared to change the run if conditions change.
Prioritise your own safety and remain injury free instead of just focusing on the numbers recorded on your running app.
Run in well-lit routes and with a phone if possible. Tell someone where you are going and when you will be back too.
13. Stay Hydrated
You may not feel like drinking as much when you are cold, but you still sweat. If you are only out for a short amount of time, a drink before and after your run will be fine. But otherwise, plan in taking sips of water from water fountains on your run or take some water with you.